It can be overwhelming and time-consuming for HubSpot Partners to keep up with HubSpot's constant updates and new tools.
As the company continues to eat up the marketplace and onboard more users, Partner services are growing in demand.
This article looks at seven of the top releases from HubSpot so far this year and how they can help HubSpot Partners and their client's businesses.

1. Child Themes for Developers
HubSpot child themes allow marketplace providers to support users with their themes.
For example, providers can now create modules, Javascript, custom CSS and at the same time ensure that user's themes are fit for regular updates via the marketplace. It also enables developers who run a wide array of branded websites to restructure updates to a single parent theme.
Overall, eliminating having to make tiresome updates across various themes for several websites.
This beta is meant to help developers design a child theme through local development and design manager. HubSpot promises to create a tool that will enable users to craft a child theme with no or minimum technical knowledge.



2. Shopify Workflows Easily Accessible to Marketing Professional Customers
Your Marketing Pro clients linked with Shopify can now easily access the Abandon Cart and New Customer workflow on the settings section of Shopify integration without having to buy Sales Pro.
Why is it important?

Initially, when a Marketing Pro customer opened the Shopify setting pages, they couldn't access two options - Abandon Cart and New Customer. Partners and their clients found this quite frustrating because it wasn't clear why they had to buy Sales Pro to use the automation.

With this change, your clients will no longer be required to purchase Sales Pro provided they have Marketing Pro.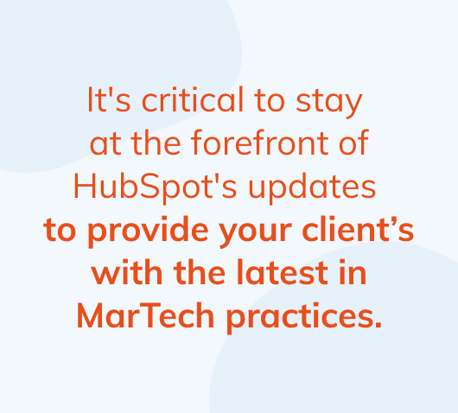 3. Introducing New Simple Branches to the Outcome of an Earlier Action
HubSpot has released new simple branches, enabling Partners to easily branch on the results of earlier workflow actions to streamline automated journeys. This relieves lots of stress from marketing teams when building out complicated automation using diverse, unique paths.
Why it matters...
Each action has to follow the other to create complicated multi-stage journeys. This streamlines the process and supports customers on the buyer journey. However, building up a follow-up structure in the workflows from the previous action outcome was an uphill battle. Besides, the process needed a lot of workarounds. But with new HubSpot branches, you can achieve that in no time.


4. Integrate Airtable with HubSpot

You can now integrate Airtable with HubSpot and control new workflow integrations, which helps to create fresh data rows in a table automatically.

Airtable is an excellent tool that enables team members to associate, seal gaps in the system, unite and evaluate data from various sources. Most Partners use Airtable to help their clients merge HubSpot data information from other systems, easily organizing projects.

The recent update allows you to include an action in the workflow, creating a new data row in a new or current Airtable. So, you don't have to deal with the stress of exporting data.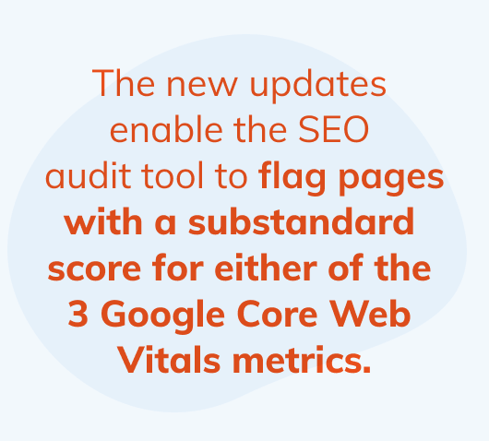 5. New SEO Audits Present in the SEO Tool
With the new SEO audit tool, you can check for external and HubSpot-hosted websites for seven new problems in several categories. Actually, HubSpot can review every website for 35 varying issues such as poor performance, bad user experience, inaccessibility, on-Page SEO issues, etc.

6. CRM Card Customization

It's now possible to modify secondary properties on association and board cards in the settings section. Here is what you have to do to set this up for your clients:

Open their HubSpot account and go to the settings section

Expand objects in the left sidebar checklist

Select the object you wish to modify

Proceed to the Record Customization option

Based on what you intend to customize, hit choose properties for association cards or choose properties in the board view.

Now select the properties to show on the card in the right panel. Note that the properties selected appear by default and therefore can't be altered.

Hit the save tab

7. Forms Comparison Tool and SEO Audit Tool That Evaluates the 3 Google Core Web Vitals Metrics
Forms Comparison Tools
With HubSpot's new comparison tool, you can evaluate the performance of a maximum of ten forms at once. You'll be able to assess various metrics, including submission, views, submission rate, and more.

Enhanced SEO Audit Tool
The new SEO audit tool can flag pages with a TBT (Total Blocking Time) of 300 milliseconds or more. TBT shows page performance, measuring the length of time a page is blocked, thereby failing to react to user's input like screen taps, keyboard presses, and mouse clicks. A good TBT should be less than 300 milliseconds, according to Google.

Why it matters...
The new updates enable the SEO audit tool to flag pages with a substandard score for either of the 3 Google Core Web Vitals metrics. HubSpot's SEO tool eliminates the need for marketers to utilize tools such as PageSpeed Insights to evaluate the three metrics for all their website pages. The new SEO tool automatically scans all the pages on the site and flags the pages that do not meet the metrics.

Key Takeaway


It's critical to stay at the forefront of HubSpot's updates to provide your clients with the latest in MarTech practices.
However, at OnTheFuze, we understand that it can take a lot of time to keep up to date and cost a lot of money to constantly be upskilling your team. If you want your team to focus on strategy and growth, rather than getting stuck in the execution, contact us. We'll set up a time to see if our White Label Services are a fit to help you.