HubSpot, aka the coolest kid on the block, has for the umpteenth time launched something that simplifies business operations - Operations Hub.
As the company continues to push limits and stays true to being an 'everything-under-one-roof platform', the Operations Hub is a much-needed addition to HubSpot's CRM.
Unsubscribes, missed deals, and cancellations can result from an unsuccessful operations strategy, it could cost you the opportunity to up-tier in the Partner Program and overall, hurts your scalability.
So, what does HubSpot's latest addition mean for you as a HubSpot Partner? What does this look like for new client work or projects? What new opportunities does it present to you?
We have all the answers in this article. Keep reading for an in-depth analysis.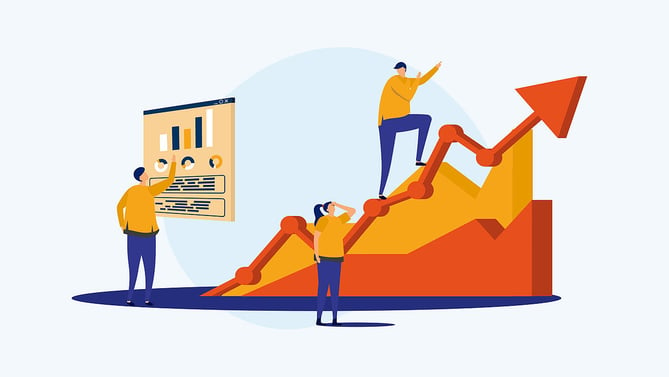 Why is Operations Hub Important?
Scaling can often start to disconnect departments which can lead to efficiency taking a hard hit.
In an attempt to solve the issue, departments bring in their own ops person. But at this point, it's usually too late. Everything is a mess and the ops team is overwhelmed. Inevitably, the operations can't produce many positive results.
In the words of HubSpot's EVP of Revenue Operations, businesses use operations teams as a remedy when customer experience (CX) goes south. However, operations teams are the architects of CX and not just fixers.
The Operations Hub is not just about spicing up the CRM, it's also about giving operations teams the spots they deserve at the forefront of customer experience.
In any case, companies must run better to provide a unified CX at scale. They can't run better without a unified revenue operations team working in a connected CRM platform.
In other words, the Operations Hub is intended to give operations teams a central system that allows them to collaborate on developing and implementing a shared revenue operations plan and removing friction for internal teams and customers.
But that's not all. Scaling businesses can easily implement data sync software, create custom automation activities, and create workflows that update essential data points in the database, among other things.
The Operations Hub will also assist businesses in unifying data, automating processes, and aligning teams around the common objective of providing consumers with unforgettable experiences. The update is now available in three different versions: free, starter, and professional.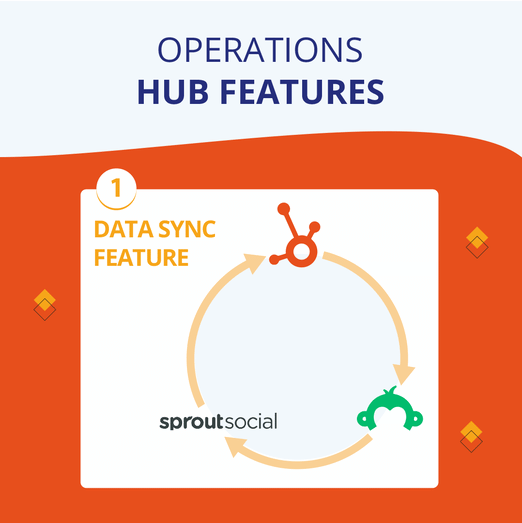 Operations Hub Features
With lots of data flowing in and out of various locations, information can become siloed, resulting in bottlenecks. How do you help your clients get a reliable, holistic view of leads, their clients, and sales when this happens? Here's a list of operations Hub features to help you.


1. The Data Sync Feature
Experiencing exhaustion from hours of spreadsheet exports and imports? The data sync feature would almost certainly put an end to your suffering.
According to statistics, the standard mid-sized business uses between 80 and 150 applications to manage its business. This means using a different app for the multiple core functions, which is a lot of work.
For example, your client could use the HubSpot CRM then use SurveyMonkey for data analysis and Sprout Social for customer support.
With the Data Sync feature, they can connect their apps to HubSpot and keep all of your records in line with each other. You can opt for the one-way sync (changes in one system are mirrored in the other), or the two-way sync (a continuous flow of data within both tools).
Your clients can also use custom fields to specify where particular data goes.
HubSpot has developed 25 integrations for the Operations Hub, including favorites like Google, Mailchimp, and Bullhorn. You can find a comprehensive list of supported applications on the HubSpot Marketplace.





2. Data Quality Automation
What if you sync your data and end up in another kind of mess? For instance, you may have populated the database with different date formats. Before HubSpot's Operations Hub, you'd resort to the dreaded manual clean-up on Google Sheets or Excel.
You don't have to do that anymore. You can correct the date formatting automatically and make other changes. You won't have to deal with the embarrassment of sending another email with a poorly formatted field either. Examples of use cases for data quality automation include:
Correcting any capitalization errors such as an improper mix of capital and small letters in names
Using the correct date formats depending on contacts, for example, MM/DD/YY file for US clients and, and DD/MM/YY for UK clients.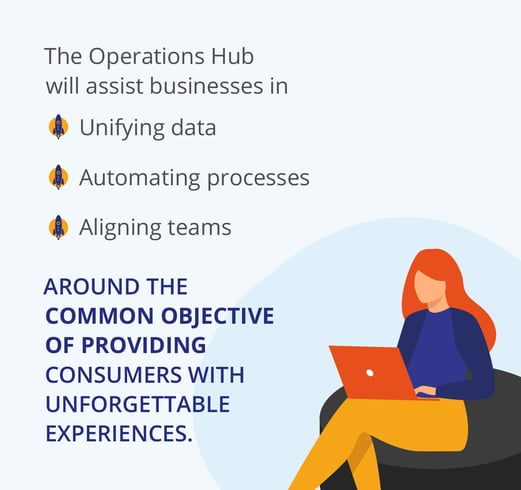 3. Programmable Automation
HubSpot left lots of room for imagination with this feature that allows you to run code directly inside HubSpot workflows. Here's a list of automated actions you can use with this feature.
The build of a webhook action (in workflows)
A custom code action (in workflows)...WOW!!!!
Chatflows with custom-coded bot actions
These actions have revolutionized the previously predefined menu of workflow actions, making it flexible enough to support the most advanced and custom use cases...making what was previously impossible now possible!
What about the cost and client data security concerns? Since you don't have to pay for individual integrations, this tool allows you to customize with ease while remaining cost-effective! Additionally, it restricts the amount of data you submit to third-party tools, keeping your clients' information safe inside the HubSpot CRM.
Check out examples of use cases under programmable workflows.
Through your third-party tool, you can monitor and measure employee commissions.
You can automate your renewals by creating a new contract with new terms when the first one expires.
Operations Hub Pricing
HubSpot allows you to use the Operations Hub for free at the beginning. You can sync loads of your top apps for free. However, the Operations Hub Starter Package costs $50 per month and gives you access to more features. The Professional Package costs $800 per month. At the moment there is no Enterprise Package.
How to Scale Seamlessly
At On The Fuze, we understand that it can take a lot of time to keep up with HubSpot's constant updates or even to keep training your team to stay ahead of the curve. If you'd rather spend your time on growth, sales, and strategy and offload this execution, contact us. We'll set up a time to see if this is a fit to help you.