Without the right tools, it can be extremely difficult to create visually appealing and high converting websites for your clients. Lucky for us, technological advancements and the creation of high-end, accessible software has made the design process easier for HubSpot Partners.
With so many services and software options to dig through, it can be an overwhelming task for designers to choose the right tools that fit each client's needs.
Straight from our Head of Design, here are our Top 5 recommendations, along with pros and cons for each software to help you make an informed decision...
The Top 5 Best Website Design Tools
Depending on your desired level of intimacy and professional expertise, finding the right website design tool can be overwhelming. With some offering free trials and others charging heavily, you'll have to make a suitable financial investment while also considering:
How complex is this website?
What's your professional expertise?
How soon is the website needed?
How much storage space is needed?




Let's dive into the list of the five best web design tools and look at their pros and cons.
1. Figma
Launched towards the end of 2016, Figma is famous for its powerful software features. Loaded with interface design and prototyping features, Figma gives Sketch and Adobe XD a run for their money.
The software offers an intuitive, vector-based interface and a collaborative cloud-based approach, which means that a team of designers can edit design files on Figma simultaneously and collaborate on projects.
Pros
Web-based; it runs on any operating system with a modern browser.
Stable built-in version control that allows editing
A current ecosystem of plugins capable of completing almost any command
Flexible styles, components, and overrides
Cons
No offline support mode
A mediocre PDF import feature
2. Sketch
Sketch is a visual web page design tool based on teamwork and simplicity. The software is famous for many reasons, a favorite being its cloud feature, which allows you to save all your designs and prototypes on the Sketch cloud.
Sketch also features the new "Sketch assistants," which gives suggestions, viable solutions, and problem points. This feature is customizable via JavaScript code editing.
Pros
Instant preview
Supports over 1000 plugins
Great UI/UX design
Design libraries from Apple for iOS, MacOS, and watchOS
Cons
Only available for MacOS
Basic, lackluster prototyping
Teams must constantly upload files to make updates
3. Adobe XD
In response to the rising popularity of Sketch, Adobe released Adobe XD in 2016. It allows designers to create web, mobile, and voice app designs and supports prototyping animations.
Popular with Windows and macOS users, XD allows opening and editing Sketch files however, it is not typically favored by novice designers due to its complexity in usage.
Pros
Compared to Figma and Sketch, XD has the best prototyping features.
Simple to use once mastered
Supports website framing
Voice audio and video recording applications
Can be used offline
Cons
No real-time collaborations
Uninspiring layout feature
Extremely complex to export certain assets
The 'free' version has limited capabilities
4. Adobe Illustrator
Illustrator is perfect for designing anything from logos to illustrations. The industry-standard tool is quite handy when it comes to branding. Illustrator works fine for the novice and the pro designer as it features simple basic drawing functionalities and advanced abilities.
Pros
Great for vectors and illustrations
Efficient file recovery
Multiple exporting vector graphics
Cons
Insufficient storage space
Lacks advanced graphic design tutorials
Not built for website design
No free version is available
5. Adobe Photoshop
For decades, Adobe Photoshop has been the go-to software tool for photo editing and retouching. It is available on Windows and MacOS. Photoshop is also helpful in designing web page layouts however, it comes with lots of barriers for website designers.
Pros
Versatile as a software tool
Practical and flexible
Unmatched editing features
Wide integrated stock library
Cons
Files can be bulky and hard to export
Not built for website design
No styles are available, meaning adjustments need to be made one by one
Its complexity can be overwhelming for new users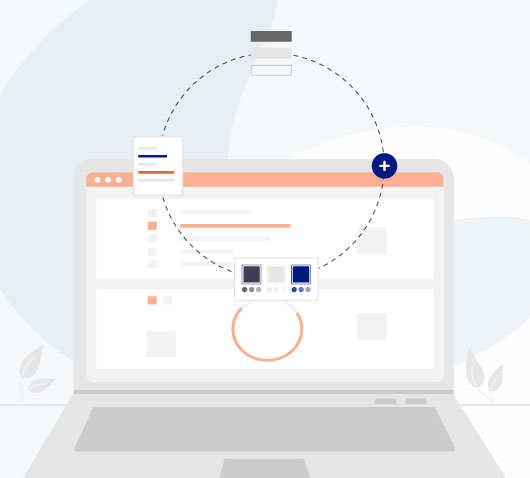 Our Verdict
Taking into account the pros and cons of each software, and having designed 100's of websites for HubSpot Partners, we'd highly recommend Figma for the spot of 'Best Web Design Tool'.
Following closely behind, our team would suggest using either XD or Sketch for the power and flexibility they give design teams. However, due to their incompatibility for web design, we would not recommend Adobe Photoshop or Adobe Illustrator for these projects.
Every client has different needs and every tool discussed in this article has different use cases, so ensure your team carefully evaluates which software would perfectly suit your needs!
Too expensive to hire a developer in-house? Tired of training and managing resources with the risk of them leaving for a bigger agency?
Some of the world's top Elite and Diamond Partners use us as their backend team...helping them offload HubSpot CMS and WordPress design and development without the stress or costs of hiring, training, and managing more staff.
Contact us here to see if we're a fit to help your agency scale without hiring.
.